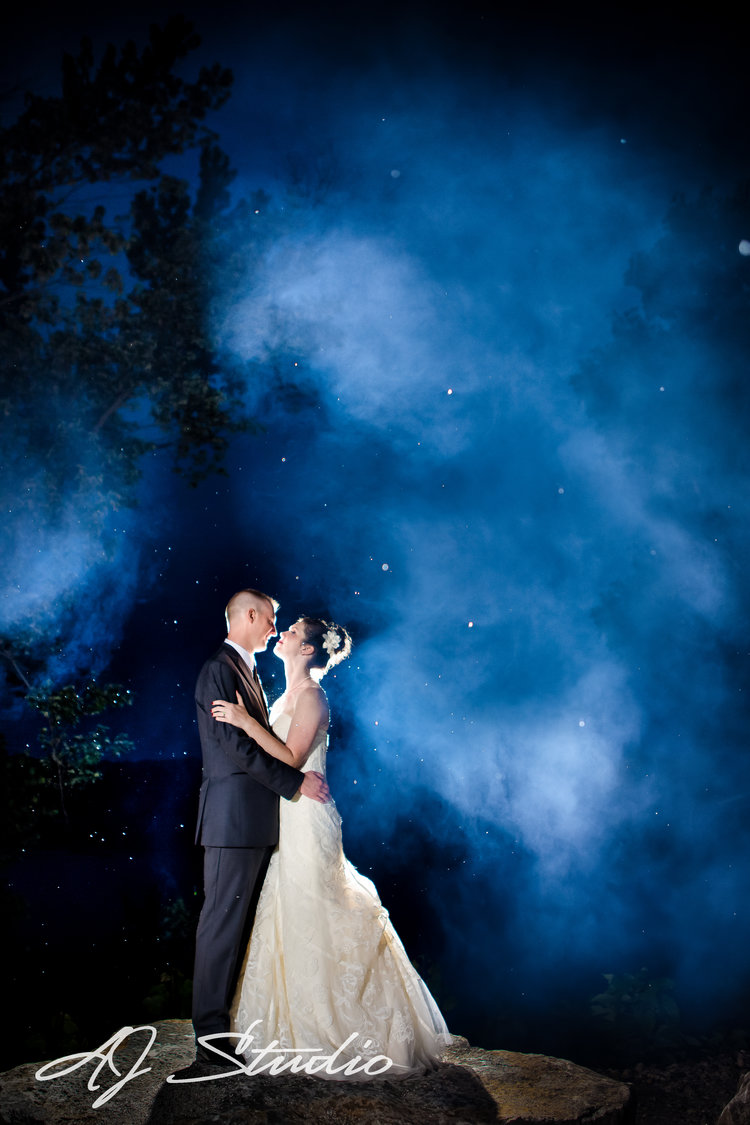 Let AJ Studio Tell Your Wedding Story
Welcome to our page. We are so happy you are here! We are AJ Studio, Cincinnati wedding photographers, who are passionate about what we do. Your family and your wedding story are unique, and nothing gives us greater pleasure than preserving those authentic connections and special moments from your family and friends. Allow us to tell your story so that when you look at your photographs, you will see the personalities of your guests in our natural coverage, and instantly experience the happiness, and excitement of your wedding again and again. While one cannot go back in time, it is possible to relive this day through the art of photographic expression.
Our favorite approach for accurately, and seamlessly capturing each client's extraordinary day is a photo-journalistic style. While we will certainly make sure you have many portraits, and perfect poses of the wedding party, and family, it's important that those candid, behind the scenes photographs that are at the heart of the wedding, are caught as well. Focusing on taking candid, spur-of-the-moment images of you and your guests are as events unfold is what will make your wedding photos more personal, and incredibly unique. We will carefully document every special instance during one of the happiest days in your life.
We love using long lenses which allow us to stand apart from the crowd, enabling us to catch authentic expressions and genuine moments. Photos taken of people in the moment, uninhibited, and simply enjoying the day makes a story truly come to life in the most unexpected ways.
Whether it's snapping images of intimate whispers, hilariously awkward happenings, extreme surprise, or the radiance of real joy, we will find those moments, and save them in a series of beautiful photographs. Anyone can have a collection of pretty, well-posed photos. At AJ Studio we believe your pictures should have sincere emotion, so when you look back on them years from now all the real memories will come rushing back, bringing with them the thrill and wonder of it all.
We're Fearless!
We work with a team of creative professionals who are FEARLESS when it comes to capturing your day. That means, we will stand on ledges, climb ladders, climb hillsides, in the rain or snow to get the perfect shot for you! We are committed to work harder then any other photographer and to shower you with care and comfort and to capture beautiful artwork that tells your story.
Another exciting way we love photographing our clients is what we call Creative Editorial. Are you dreaming of wedding photos that look as though they came straight from one of the top bridal magazines? We thrive on giving you the most professional, stunning images that highlight the exquisite beauty of your union. Through the use of off-camera lighting, we are able to create editorial style images you'll feel excited to show-off and display everywhere!
To ensure a truly memorable experience for every couple, we keep our services pretty exclusive. As one of our clients, you can rest assured that we'll have dedicated the time to ensure you receive the very best in creativity and personal attention. Call us to chat via phone, or set a time to come by our cozy studio for a glass of wine so we may get to know one another. Tell us about your wishes and overall hopes for your finished album, and if there are any specific ideas or important little details you desire we focus on. We will work together to ensure you have everything you are hoping for in your wedding albums.
The more we discuss and plan prior to your big day, the better we can produce the perfect assortment of lasting memories. Knowing and feeling confident in one's photographer is so important when creating memorable images because it's important to feel relaxed, and cool in front of the camera. Get to know us, laugh with us, and have peace of mind that your memories will be impeccably captured.
Wedding Videography
Are you interested in adding a wedding video to your photography package? Just ask! We proudly collaborate with the industry's most talented videographers and are more than happy to arrange for one at your special occasion. A perfect wedding video is a wonderful complement to your album of memories!
We look forward to working with you, and making every moment unforgettable!'
---
What Our Clients Say…
"I simply cannot recommend Angela and Jaime high enough. My wife and I were absolutely ecstatic with how our pictures turned out. Angela and Jaime were incredibly easy to work with and the pictures she took were fantastic. We were shocked at how quickly they turned around all of our photos. By the time we were done with our honeymoon, the links to our pictures were sitting in our inbox.
Perhaps the hardest thing to explain about why we liked Angela and Jaime so much was how comfortable they made us feel during our entire wedding day. They really made our day that much more enjoyable.
I would recommend Angela and Jaime to anyone and we were fortunate enough to be recommended to them by my wife's sister who also had Jaime do her wedding. We will definitely be using them again for any future photography needs."
— Rick, wedding on April 11, 2015
---
Get to know AJ Studio! We know how important it is to feel comfortable with your photographer! If you're not comfortable, it will show in your photos. It's even more important for your wedding day. The photographer will be with you all day! We want you to get to know us, laugh with us and have peace of mind knowing your memories will be perfectly captured.
Click here and we will give you a call to set up a time for a free consultation at our cozy studio in the Reading Bridal District. We can't wait to meet you!
To learn more about AJ Studio – Photography by Angela and Jaime click here.
To see more from our portfolio click here.