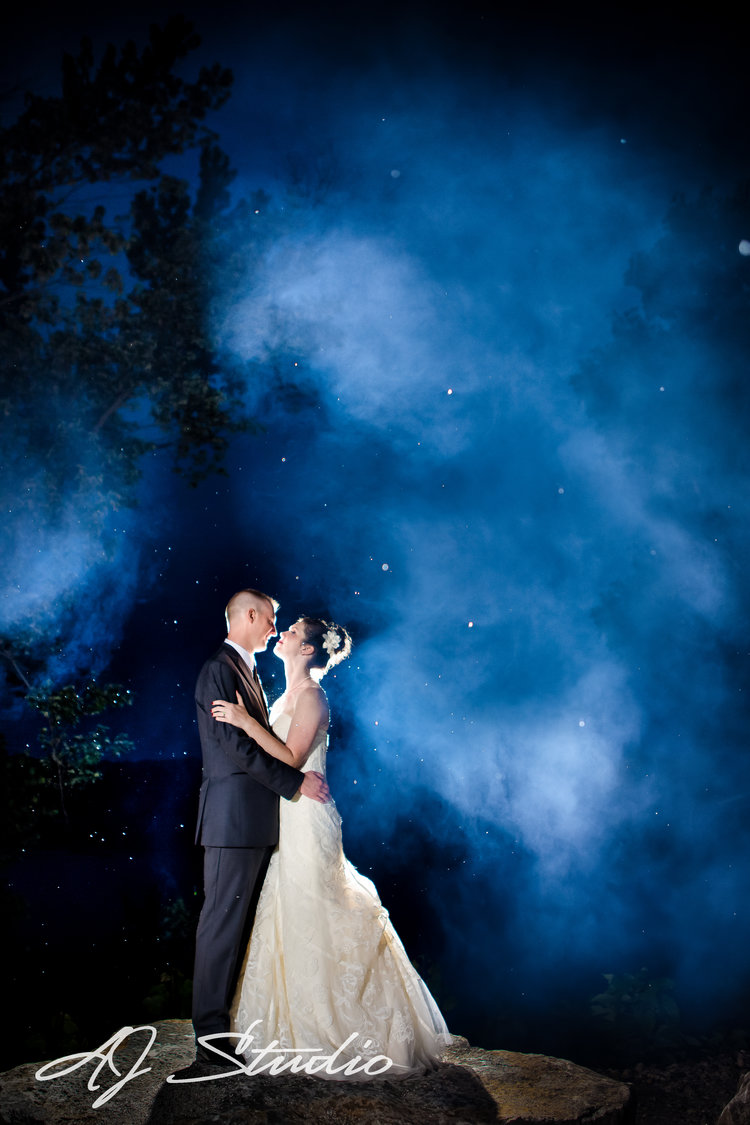 Let AJ Studio Tell Your Wedding Story
Hey! You! We wish we could see your smiling face right now. But since we can't, we'll just pretend that we're together having some coffee (or perhaps you prefer beer or wine, we're good with that too) and chatting about your wedding day! We know you're excited. We also know you have a lot of choices to make. And photography is likely pretty important to you. I mean, it is for us, so we just assume it is for you too. Hope we're right!
Wedding photography is, legit, one of the most important wedding investments you're going to make. The venue is huge. The right dress is serious business. The flowers have to be the right colors. The food has to be tasty. The Dj needs to know how to keep your guests on their feet. ALL of these elements together make your wedding day. But what is the day without the memories? And what better way to remember every little detail about the most important day of your life, than photos? Seriously, when you look back 20-30-40 years from now, we desperately want you to recall how incredible it was. How it couldn't have been more perfect. And how every single stressful moment leading up to the day was worth it. The journey of marriage is long. The first day of the adventure is short, but it is where your story begins. It is the start of something amazing. You deserve to have it captured beautifully.
We're Angela & Jaime of AJ Studio. A Cincinnati, Ohio based photography business.  Photojournalistic photography is our passion. We think some of life's greatest joys are discovered over a cup of hot coffee or a glass of red wine. We're adventurous, but also enjoy a night to Netflix and chill. Jaime likes milk chocolate and Angela likes dark chocolate.  But we always agree on gummy bears. We think the sound of laughter is magical. We live for capturing kisses on the shoulder, secret handholds, a tear of happiness escaping your Father's eye, the first moment your spouse calls your a Mr. or Mrs. The kiss that seals your forever.  
Our favorite moments of the wedding day are when our couple locks eyes for the first time- although it's a fleeting moment, we can feel time stands still for an instant and after the first kiss, when the happiness is so palpable you just want to burst.
 We suppose you could say we're hopeless romantics. We believe that everyone deserves a Fairytale love story.  We think Ed Sheeran's "Perfect" is literally the perfect love song. And Titanic and The Notebook are the greatest love stories in existence. Sparkler exits are always encouraged (even at the risk of a little burnt hair on our behalf).
Whew. Did we just pour our guts out or what? We have a soft, sappy heart for weddings if you can't tell!  And we'd be honored to capture your life & love's moments.
 Ps- We really love wedding cake too. So, if you could plan to save us a piece, that would be great!
We're Fearless!
We work with a team of creative professionals who are FEARLESS when it comes to capturing your day. That means, we will stand on ledges, climb ladders, climb hillsides, in the rain or snow to get the perfect shot for you! We are committed to work harder then any other photographer and to shower you with care and comfort and to capture beautiful artwork that tells your story.
Another exciting way we love photographing our clients is what we call Creative Editorial. Are you dreaming of wedding photos that look as though they came straight from one of the top bridal magazines? We thrive on giving you the most professional, stunning images that highlight the exquisite beauty of your union. Through the use of off-camera lighting, we are able to create editorial style images you'll feel excited to show-off and display everywhere!
To ensure a truly memorable experience for every couple, we keep our services pretty exclusive. As one of our clients, you can rest assured that we'll have dedicated the time to ensure you receive the very best in creativity and personal attention. Call us to chat via phone, or set a time to come by our cozy studio for a glass of wine so we may get to know one another. Tell us about your wishes and overall hopes for your finished album, and if there are any specific ideas or important little details you desire we focus on. We will work together to ensure you have everything you are hoping for in your wedding albums.
The more we discuss and plan prior to your big day, the better we can produce the perfect assortment of lasting memories. Knowing and feeling confident in one's photographer is so important when creating memorable images because it's important to feel relaxed, and cool in front of the camera. Get to know us, laugh with us, and have peace of mind that your memories will be impeccably captured.
Wedding Videography
Are you interested in adding a wedding video to your photography package? Just ask! We proudly collaborate with the industry's most talented videographers and are more than happy to arrange for one at your special occasion. A perfect wedding video is a wonderful complement to your album of memories!
We look forward to working with you, and making every moment unforgettable!'
---
What Our Clients Say…
"I simply cannot recommend Angela and Jaime high enough. My wife and I were absolutely ecstatic with how our pictures turned out. Angela and Jaime were incredibly easy to work with and the pictures she took were fantastic. We were shocked at how quickly they turned around all of our photos. By the time we were done with our honeymoon, the links to our pictures were sitting in our inbox.
Perhaps the hardest thing to explain about why we liked Angela and Jaime so much was how comfortable they made us feel during our entire wedding day. They really made our day that much more enjoyable.
I would recommend Angela and Jaime to anyone and we were fortunate enough to be recommended to them by my wife's sister who also had Jaime do her wedding. We will definitely be using them again for any future photography needs."
— Rick, wedding on April 11, 2015
---
Get to know AJ Studio! We know how important it is to feel comfortable with your photographer! If you're not comfortable, it will show in your photos. It's even more important for your wedding day. The photographer will be with you all day! We want you to get to know us, laugh with us and have peace of mind knowing your memories will be perfectly captured.

Click here and we will give you a call to set up a time for a free consultation. We can't wait to meet you!
To learn more about AJ Studio – Photography by Angela and Jaime click here.
To see more from our portfolio click here.